The Community Fridge is now open at St Michael's Community Centre, Bemerton Heath. It is open from 11 until 2 on Mondays, Tuesdays, Thursdays and Fridays..
COVID-19
Please click here to listen to our CEO Sarah Busby on the decisions we have made as a school and trust.
Please click here to see the plans for the extension to the school. These will include a new office reception area and specific ELSA rooms.
Look at the amazing piece of Geography writing from Evie in Year 2.
Lily from Year 6 sent in this lovely account of Pentecost from Peter's point of view:
Our Facebook Page has lots more examples of amazing home learning. Please take a look..
STOP!!!!! Follow the link below to something we know you will love!
Here's a little message from all of us to all of you!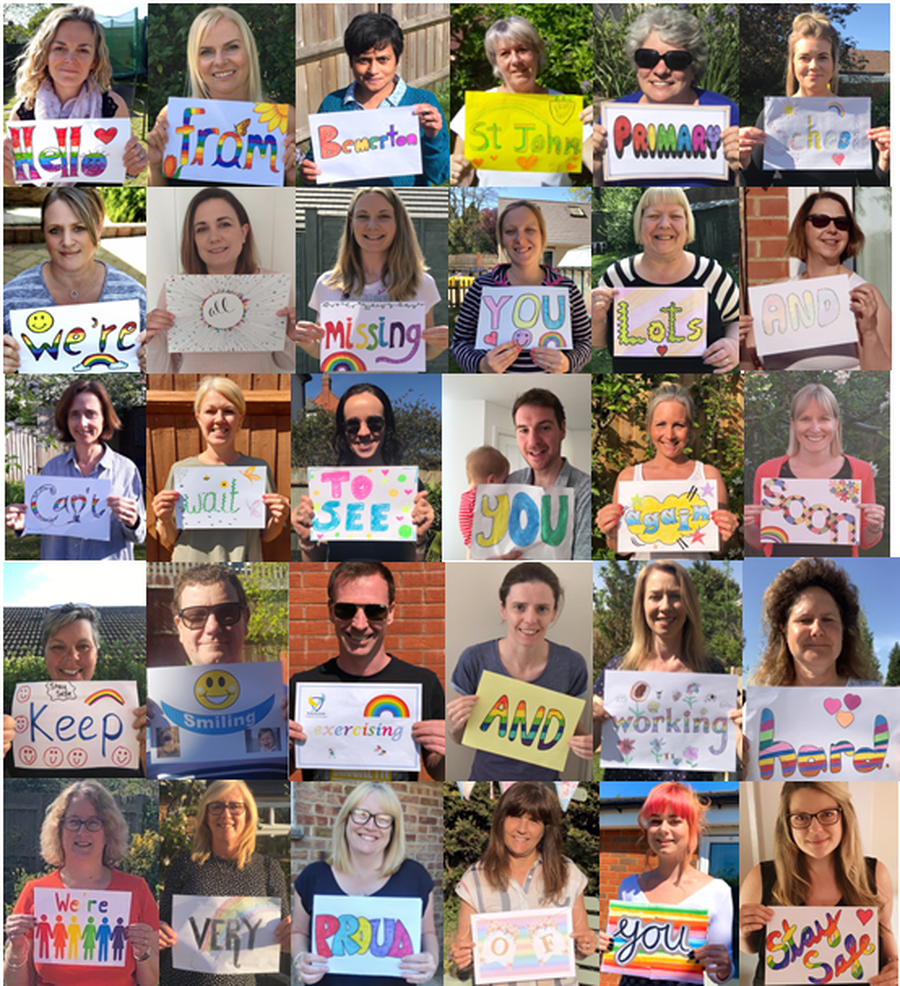 This lovely rainbow was created by the wonderful staff and children attending the hub this week. The sun came out for the photo too!
Childcare for Critical Workers
We are now providing childcare places via a hub at one of our schools in Magna Learning Partnership. If you completed last week's childcare survey you will have received a letter from us today. This advises you about the provision and, assuming that you are a critical worker and your child is not able to stay at home safely, you will be eligible for the childcare. If you have not received a letter and believe you are eligible then please contact Lynne Carley lcarley@magnalearningpartnership.org.uk.
Welcome to Bemerton St John School Website
Welcome to Bemerton St John C of E Primary School which is part of Magna Learning Partnership, I hope that the information contained on this website helps to give a flavour of our aims, objectives and expectations of our pupils. The children lie at the heart of everything we do at Bemerton and staff and governors firmly believe that all of our children deserve the very best education and to give them second best is to fail them.
I feel privileged to be a part of such a happy and caring school where the whole school community works together for the good of the school and its pupils. We are a Voluntary Aided School which enables the Governing Body to ensure that staff appointed, remain true to the Christian principles that underpin a Church School. We are committed to developing every child's full potential intellectually, physically, spiritually and socially, and feel this is most successfully achieved when we work in partnership with parents and carers.
We are proud of the children in our school and what they achieve. Each one of us at Bemerton St John, children and adults alike, is on a learning journey to discovery and understanding. Our children reflect the ethos of our school – they are happy, secure, confident and determined to tackle the exciting challenges that our school offers. It is a pleasure to welcome you to our school.
Alun Richards
Headteacher
'Through love serve one another.' Galatians 5:13
Dear God,
Thank you for all my friends in school and the world. I am very happy that you care for everyone.
Thank you for my family and my Mum, Dad and brothers.
Thank you for the sun and flowers and grass.
Thank you for life.
Thank you for everything,
Amen. Written by Safiya in Year 2
Dear God,
Please help us to be safe because we are losing people.
help us to be king and help each other to get through this virus.
Amen Written by Megan in year 2
Our Values
As a school, we pride ourselves on the children living out our special values. If you have any photos or examples of the children living out the values whilst at home, please share on the school's Facebook page. These events are worth celebrating.
Wisdom Respect Fairness Thankfulness Perseverance
Debbie Newman - Family Link Worker will be available on 07752158827 if you have any welfare or parenting questions
Latest School Events Events
There are currently no events.
Calendars page(s): School Events >>
Lower Rd, Lower Bemerton, Salisbury, Wiltshire SP2 9NW
admin@bemerton-st-john.wilts.sch.uk
01722 322848 to speak to Lindsay or Vannessa