Welcome back Wrens!
What a wonderful first couple of weeks we have had. It has been super to see just how excited you all were to return to school. We are so very proud of just how well you have settled back in to the daily routines and how you are getting back in to the swing of learning to learn. There have been a few changes whilst you have been away. Take a look at the gallery of photos below. We know that the children have really been enjoying the new additions. Watch out for more photos of the children learning outdoors.
A few helpful reminders -
Monday and Wednesday - school uniform
Tuesday and Friday - PE clothes to be worn to school and please remember to bring a spare pair of clean shoes in a bag
Thursday - outdoor learning. Appropriate outdoor clothing that will probably get a bit dirty. Wet weather overalls or raincoat and waterproof trousers.
Each day your child should bring their book bag and a water bottle with fresh water. Now that the weather is warming up, please remember to also send in a sun hat.
A useful tip so that your child can find their book bag easily is to attach a small keyring (no lights, noises or anything big please!) to the handle.
Each term we have a different focus for our learning. Please click here to view the Curriculum Overview.
Reading books
Please make sure that the books are brought to school daily in the book bag. Please click here to see a copy of the letter that was also sent home which explains our reading expectations.
Please continue the fantastic phonic and tricky word practising that you were doing during the remote learning from home.
Along with daily reading we also ask that your child practises writing their name daily.
Here are some of our updated features.
And here we are enjoying our learning.
Have you ever stood still and looked up through the branches of a tall tree? Have you ever marvelled at the amazing design of a spider's web as dew drops glisten on its silk strands? Have you watched the mist rise off the gently rippling river?
Today we went on an Autumn welly walk and did all of these. We looked for signs of Autumn. We found leaves of different colours, berries, fungi, conkers and bare trees. Unfortunately, we didn't see a squirrel.....
Our Prayer and Reflection area. We have focussed on the importance of God's name to Christians and God knowing each one of us by name.
Our Investigation area. This term are exploring colour.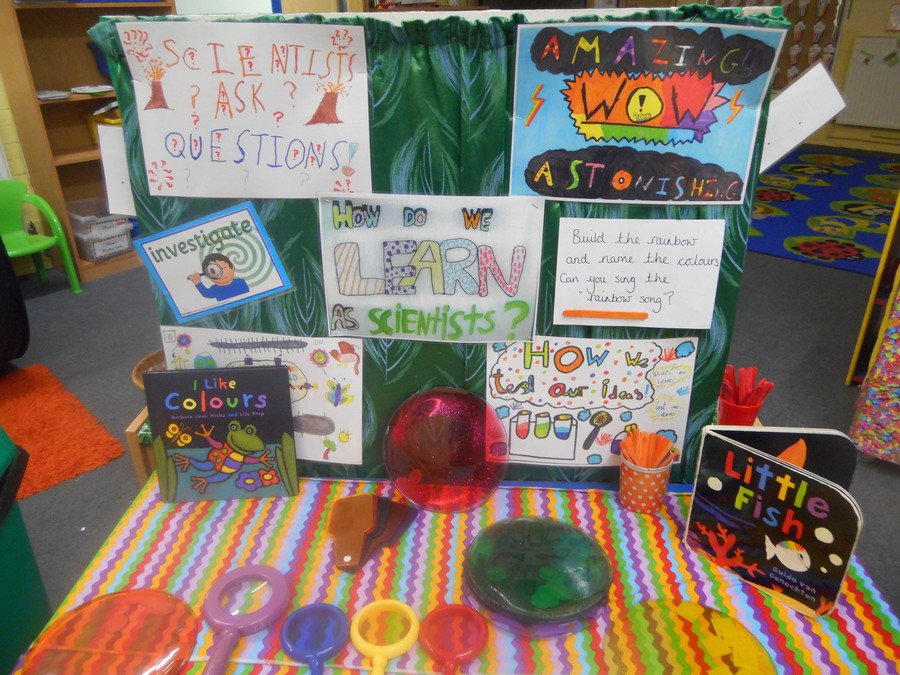 For more information regarding Tapestry, log in to the Learn page.